Jack Riley
Eagle-eyed readers will have spotted a big change at the foot of
articles published on the site today
. Where once there was chaos, there is now (hopefully) order. And in the event that the launch of our new commenting section is in the process of going horribly, technically, wrong, there is, at least, a more entertaining chaos than usual.
So it's with great pleasure that I introduce our new commenting system, powered by a charming little startup of seven people based in San Francisco, called
Disqus
. The new system is going to help us, with a little luck, transform commenting on the Independent into a more open and positive experience.
It's worth noting first of all that the issues we've laboured with under the previous system weren't really the fault of our audience. We know from experience that our readers are some of the smartest, wittiest and most discerning any publication could have the good fortune to attract. But read the comment sections of any of our articles over the last year or so and you'd be likely to come across a mixture of negative, sometimes borderline abusive comments often crowding out the more reasonable responses. And that's just the ones which weren't trying to sell you a pair of knock-off Nike Air Jordans (size 1-24), as one particularly determined group of Chinese spammers attempted on the site many, many times.
Spam aside, there have been many reasons for the problems we've had with the tone of commenting on independent.co.uk, and chief among them has been the relative anonymity with which users have been able to comment. With our new system it's possible to log in with Facebook and Twitter, and for the social network-phobic there's an email address only option from Disqus. We're encouraging people to use credentials linked to their personal profiles not just because openness and accountability are great, fundamental things which underpin good journalism as well as good commenting (and why should the two be different?), but also because by introducing accountability into the equation, we're hoping the tone and standard of the comments will go up.
So what we're trying to achieve with the new comment system is bigger than just the (admittedly excellent) system we're putting in place. It's about first of all letting people authenticate their commenting using systems with which they're already familiar (in Facebook's case, that's 400 million people worldwide and counting), and secondly, it's about restoring your trust in our comments section, so that some of the really great submissions we get on there rise to the top, the bad sink to the bottom, and the ugly - the spam and abuse that are an inevitable adjunct of any commenting system - don't appear at all.
Perhaps more importantly still, we want to empower the silent majority of people who have something to say about an article, but fear the wrath of an unforgiving community or, more often, can't be bothered to sign up to a new system. For those with
Twitter
,
Facebook
(more than 20 million of you in the UK, apparently),
Yahoo
or
OpenId
, with just a few clicks and no extra details handed over, you can be away and commenting on the Independent site with the minimum of bother. And in return, what we're hoping for is that by introducing logins which really represent people's personal identities, we can extend that accountability that you've come to expect, quite rightly, from The Independent to the comment sections of our digital journalistic output.
We've been trialling the system on the
Sports section
for the last week, and it's been great to watch the tone gently rise up to the level of constructive debate - among sports fans this can be considered an even greater achievement. There's also been great activity in terms of people upvoting insightful comments and skipping over the inane, and I'd encourage all users when browsing the site under the new system to be liberal with their use of the 'like' button when browsing individual comments, and not to hesitate when flagging a comment (simply hover over anything you don't like to see the flag option) as unsuitable. As with everything we do, we're open to suggestion and keen to hear any and all of your feedback, especially in the
comments section
- just as long as you're not trying to sell us trainers.
Courtesy of the kind people at
Bit.ly Pro
, we've set up our own URL shortener using the address Ind.pn, so URLs from the print edition and in other select locations (not yet for users, unfortunately) will be shortened to Ind.pn. Think of all the wonderful things you can do with it -
Learn to speak Spanish -
ind.pn/5wAzLO
Play at making sushi -
ind.pn/baPi23
Work out what to go and see at the cinema -
ind.pn/9XqKMB
Or even follow the latest politics news -
ind.pn/d9hdWZ
A prize of one custom shortened URL to any domain spotter (the twitchers of the blogosphere) out there who can tell us where Ind.pn is registered without googling it.
As anticipation for the Camden Crawl grows, we interview another of the event's committee members, Last.fm's Vice-President of Brand & Product Orlena Yeung, about what she's looking forward to most from the forthcoming festival. Previous interviews with
Bella Union's Simon Raymonde
and
Rough Trade's Sean Forbes
are online now, and tickets and the full line-up are available
here
.
1. Which bands are you looking forward to most at this year's event?
Well, we are really excited about hosting Ms Dynamite at our Last.fm venue this year. Her recent collaboration with DJ Zinc 'Wile Out' has been a big club track and it should be the perfect time for a big show. Most of the bands we're excited about are playing the Last.fm stage; Bo Ningen fit with the original ethos behind our Last.fm Presents events: fresh, exciting and loud music, plus Totally Enormous Extinct Dinosaurs & Samuel & The Dragon are some really exciting new UK prospects for original songwriting.
2. Are there any Camden Crawl venues you have a special affection for? Any you really dislike?
Well I guess I'm biased as we host a monthly free show (Last.fm Presents) at the Barfly, which is what it is: a Camden institution. Apart from that, the Roundhouse is an incredible venue on size, design and the general booking policy.
3. What's it like to have your offices in what people are now calling the 'silicon roundabout'? Is there a sense of being part of an East End tech community?
The East End is still a hive of creativity in London and it's definitely an exciting place to work with lots of interesting people and companies working nearby.
4. It's fair to say Last.fm has had a pretty fantastic impact on the way people listen to music - what's next for the service?
This year we are going to focus on helping people get even more out of scrobbling by making it even more ubiquitous. This helps users get more out of all different music services out there because their music listening will be captured and as a result they will get better recommendations.
5. Since the Xbox launch seemed to go so well, are there any other platforms that you'd like bring Last.fm to?
We are pursuing a multi-platform approach. We are currently on mobile, gaming as mentioned, and we will continue to expand our hardware partnership.
6. Any big Last.fm/Camden Crawl tie-ups to speak of?
I've been listening to the Camden Crawl Festival Radio non stop which has got me really excited about checking out some of the newer bands at this years festival:
http://www.last.fm/listen/event/1228678
7. How do you think 2010 is shaping up as a year for new music in general?
I think 2010 will be a really interesting year for UK Hip Hop & Grime, with artists like Blame, Tinchy Stryder, Tinie Tempah etc finding mainstream success with an element of credibility that UK rappers haven't been able to reach in the mainstream for some bizarre reason. I think the boundaries between UK club music, Grime and indie music are getting more and more blurred so i'm looking forward to see what
new tags
start appearing on the site this year 'tech-synth-tropical-bass-hop' anyone?
Even for someone who has only ever owned one Apple product (an iPod, since you ask), the prospect of getting your hands on an
iPad
, however briefly, is an exciting one. Perhaps a little too exciting if the picture of me to the left is anything to go by.
I'll keep my thoughts on the iffy philosophy behind the iPad to a later post. Restricting myself to the device in practice though, it's hard to find faults. It's fast – as fast as
the adverts
everyone's seen by now, both in the rotation of the screen when turned on its side, and in opening and running applications. The onboard version of Safari renders pages quickly and with few glitches, save for the fact that it doesn't display Flash, and apps like YouTube and Maps show that for all the talk of the burgeoning conflict between Google and Apple, the Mountain View-based search giant is still happy to provide Apple product owners with some fantastic software.
I've not had chance to do a full road test on the iPad, though. My interactions with the device described variously as a '
game changer
' and '
the future of computing
' have been limited to a half-hour play in the office canteen, with a unit brought in by
Kelkoo
's International VP Bruce Fair, to trumpet their distribution of the iPad whenever it comes out. I didn't have time for the lull in enthusiasm that apparently comes after first using with the device, never mind to get through it in the way described in Guardian editor
Alan Rusbridger
's sober
video review
.
But I did have it long enough to feel its restrictions, largely because they are achingly apparent in almost any of the areas using the device involves. I'll post some more thoughts on that later, but for now it's worth waiting to see what comes of the announcement of the new iPhone OS tomorrow, and whether those developments will be pushed retroactively to the 300,000+ iPads already sold in the US.
Camden Crawl
is not far off now, and as part of our extended coverage of the event (
which includes a ticket giveaway, here
), we've interviewed panel members for the event. First up is Sean Forbes of iconic music shop
Rough Trade
, to be followed by Simon Raymonde of
Bella Union
and finally Orlena Yeung, VP Brand & Product at online music phenomenon
Last.fm
. If you're as sick of the budget as everyone else is, read it as a quick distraction, and remember tickets for the event, which features such accomplished performers as Teenage Fanclub, Delays, The Drums, New Young Pony Club, Lightspeed Champion and many more, are still available.
Which bands are you looking forward to most at this year's event?

Young Marble Giants - First gig in London in 29 years and 32 days
Best Coast - The best new band America has to offer
Veronica Falls - The best new band England has to offer
Are there any Camden Crawl venues you have a special affection for?
Koko - I saw my third ever gig there when I was a wee nipper - it was called the music machine then. And just in case you were interested it was by the UK subs
3. Any Camden venues you really dislike?
The Electric Ballroom - it smells of goths
4. Any Rough Trade favourites playing at the event?
Well, it seems only appropriate that the Young Marble Giants are playing the Rough Trade stage as the Rough Trade label released their one and only proper album 'Colossal Youth'. Also we totally love Surfer Blood at the shop. The album is on heavy rotation everyday. You can't help but love Surfer Blood.
5. How do you think 2010 is shaping up as a year for new music in general?
it's a great year so far - lots of interesting records already - check into Harper Simon, Cours Lapin, Voice of the Seven Thunders, Gill Scott-Heron, Joanna Newsom, Caitlin Rose, Broken Bells, etc...
There are as many strands to contemporary discussions about globalisation as there are implications of the seemingly inexorable process by which the world's industries and cultures are going global. But how do opinions about theses issues vary around the world? Finding the answer to that question was the task undertaken by
Debatewise
, who've
set themselves the challenge
of becoming a global platform themselves in the field of debate. I'd strongly encourage you to take a look at their site, but in brief, here's their mission statement;
"Fundamentally, it's to further debate. We believe neutrality to be somewhat of an unattainable goal and that all of us have bias; whether we be individuals, journalists or big media and whether this bias be explicit or unacknowledged."

The first step was to collect opinions from Debatewise's Global Youth Panel, a collective of 1,000 young people around the world who were initially assembled to help the site commentate on the
Copenhagen Climate Change Summit
last year. In association with the
Future Stories
project (an initiative whose aim it is to highlight the benefits of globalisation, it's worth mentioning), and in association with the Independent, we've produced a YouTube-powered video-map, showcasing some of the opinions of their panel around the world.
Click through to see the map
(In it's infinite wisdom, LiveJournal won't let me embed it here):
If you want your opinion on Globalisation included on the map, just record a video of a couple of minutes long and upload it to YouTube, and send a link to j.riley [at] independent.co.uk with your name, age and location.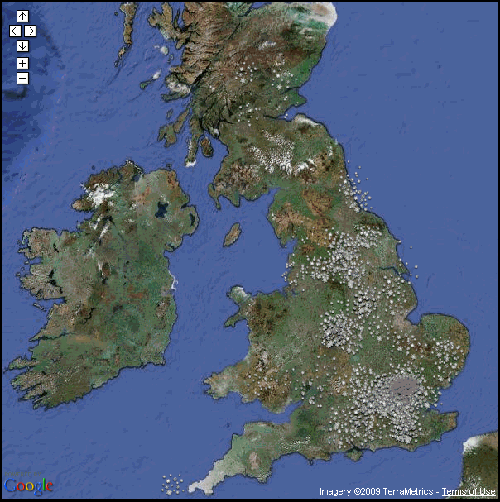 With the snow now subsiding and the country starting to get back to normal, I dropped a few questions over to developer Ben Marsh, whose
#UKsnow map
was one of the web highlights of the recent bad weather. It worked by asking people to tweet their postcode and how hard it was snowing followed by the hashtag
#uksnow
, and aggregating all of the information in the form of a map, which we embedded along with user-embedded pictures
here
(note the lack of snow right now). Besides looking pretty, the map provided an interesting visualisation of the weather conditions (as well as an indication of where all the country's Twitter users are hiding). I asked Ben about what position he sees developers occupying in the new media landscape.
Do you see the huge success of the #uksnow map as indicative of the positive potential of geolocation? As something a lot of people are talking about as a tip for 2010 tech trends, there's already been a lot of grumbling about privacy.
I definitely see geolocation being big in 2010, especially as more mobile devices are being released with GPS, the numbers of websites and apps making use of this can only increase. I think as long as this technology is used responsibly and as an opt-in feature, and as long as users are sensible when using it, then hopefully any problems can be minimised. Obviously there are possible privacy problems with this kind of technology but at the same time it opens up some fantastic possibilities.

How important is the role developers will have to play in more interactive news services/data mashups over the next few years?
I see developers as being very important. Its fantastic that people come up with ideas for mashups and services but having developers that can and know how to turn these ideas into a working app is crucial.
Are there any skills developers who want to emulate the success of projects like the snowmap should develop?

JavaScript is becoming increasingly more important, so get on board with a JavaScript framework - I use jQuery - but most of these will remove common tedious JavaScript tasks and free up time to work on the fun parts. Also read up on and have a play with webservices, many websites expose their key functionality through an API, so hook into these and mash something up.
Do you have any plans to launch similar services to snowmap, holsmap, the twitter music chart etc.?

I recently launched an app for lastminute.com (
http://moodofthenationmap.com/
) which tracks people's #goodmood and #badmood tweets across the nation.
The dust's settled and the results are in on our highly unscientific series of tests to ascertain whether the iPhone or Google's Android phone (specifically the
Motorola Milestone
) is easier for new users to get to grips with. For the full introduction,
here's yesterday's blog post
, but otherwise let's get on with the nitty gritty.
Playing the guinea pig was
Simon Rice
, the Independent's Online Sports fella, who qualified himself as a control group by virtue of his blissful ignorance about the use and nature of touchscreens of any description. All in all though, he acquitted himself well over the three tests I'd devised to try and work out which of the systems was the most intuitive.




Test 1: Adding a contact to the phonebook and calling it.

Results - Android: 1min43 iPhone: 1min57
Though initially thrown off by the fact that process for adding a contact on Android involves pressing the 'Menu' or 'List' button, Simon was significantly faster at adding a contact to the Android phone than he was to Apple's alternative, due, at least in part, to his inability to type first and last names in the specified boxes. Still, not bad, and 1-0 to Android.
Test 2: Sending an email

Results - Android: 1min46 iPhone: 1min42
To the first of the higher order functions of the devices, and Simon, who'd never sent an email from a phone before, appeared to be learning fast as both devices were dispensed with at pace. The fact that the iPhone has a highly visible 'compose' button on the inbox view helped, while the use of the Android menu button the only, minor, stumbling block. 1-1.
Test 3: Tweeting a picture

Results - Android: 2min30 iPhone: 2min50
The last, and most controversial, of the tests involved using Twitter to send an image taken with the camera. I chose Echofon on the iPhone and Twidroid on the Milestone as the apps to use, since they seem to be the
best free ones
for each platform from reviews I've read. Android was significantly faster here, and with the Milestone's 5 MP camera, the picture was a lot better. 2-1 to Android, then.
But what did Simon make of the experience, qualitatively speaking? "I was surprised at how easy both phones were to navigate, especially considering I've never used Twitter on a phone before, much less tweeted pictures", he commented. "I'd pick the iPhone, but only just, and that's down to the onscreen keyboard on the Android, which didn't seem to pick my typing up. I tried the physical keyboard and gave up on it as I didn't like the feel."
In the next set of tests, I'll be pitting myself as a veteran Android user against iPhone devotee and feature writer
Simon Usborne
in a battle to the death for smartphone bragging rights..
The first time you hear Caitlin Rose, the Nashville-born singer-songwriter whose country-tinged arrangements are threatening to make a big impression in 2010, you'll thank your lucky stars that she chose to pursue a career in music rather than go to college. With a full album scheduled for release later in the year, her 7-track Dead Flowers EP is out on 15 February, and in tomorrow's Caught in the Net column we're giving away the song Shotgun Wedding. Here's a quick email interview with the 22-year-old starlet, covering the inspiration for that song, the recording plans, and how she came to be such a hot ticket in so many people's next big thing predictions for the coming year.
What's it like to come from such a mecca of country music as Nashville? Is it more of a burden or a blessing?
Growing up in Nashville, especially in a music business family, means growing up with knowledge that seems like common sense until later in life when you realize people spend thousands of dollars a semester trying to learn or pretending to learn while looking for some intern job on music row. It's a blessing to live in a town where two or three people could take turns explaining to you the entire history of country or rock and roll. Everyone here knows more than you about something so a good listener or observer can learn a whole lot in a short amount of time.
How do you come to writing your songs? Are they inspired by people you know?
I think I write in laymans terms. There's really not much to dissect. Usually I say it straight or not at all.
Writing songs about people I don't know is easier. If I could be more vague I'd write more about people in my life, but I hate hurting feelings or making people feel uncomfortable. I've done that before. Unless they're sad songs. Those get finished fast, but the mean ones often end up at the back of the bottom drawer and it's probably for the best.
I guess the next one follows on... is there a real Gorilla Man? [The song 'Gorilla Man' is a highlight of the EP]
Gorilla Man is a composite of a few individuals, but the song itself was actually inspired by James Taylor. I spied his Gorilla album laying on my floor and in some altered state, instantly started singing the chorus. It was fun to write. There's an old notebook with at least three more verses in it somewhere. There's a Gorilla Man part 2 that's just as ridiculous, but is actually played on guitar instead of that obnoxious tambourine.
How was your recent visit to Britain? Are there any plans to tour here again?
It was a great visit. I met a whole slew of new fantastic people, played great clubs and drank good beer. There's not much else to ask for.
The plan is to return soon after the completion of the new record, potentially mid-March. I can't wait to go back even though I hate to fly.
Who are your favourite musicians? Do you listen to a lot of non-country music?
All I can remember listening to for two years is 650am(WSM) or random country records from the dollar bin. Being so fed up with the dead horse "indie sound" or any lackluster-named genre had me honing in on this one reliable sound that no one could call pretentious or unambitious or overly ambitious or washed out or "spector-esque". Nobody I knew really listened to country. It's just about finding a good song. That's something almost anyone can understand.
This past year though I've branched out or just gone back to where I was in high school. I've gotten pretty heavy into The Replacements. Paul Westerberg is one of my favorite songwriters. Fleetwood Mac has really made a mark on me as well, whatever incarnation. I never really understood pop music before Rumours, or at least what pop music should be. The mysticism(how corny) of Stevie Nicks is very appealing. She's convincingly cosmic and makes me want to layer all of my ensembles. She also got me pretty heavy into Tom Petty who I love for being fun without being frivolous. His writing is honest, his melodies are beautiful and his attitude is rocknroll without taking his emotions off the table. That old Mudcrutch stuff is cool too.
My favorite contemporary artists are Phosphorescent and Deer Tick. The first of which has an obvious appreciation and feel for country, but whose records are recorded in beautiful and bizarre atmospheric style. He has a voice that soothes without sounding wimpy. This year he released a beautiful Willie Nelson tribute called To Willie, one of my favorites. I'm also very fond of Deer Tick's '09 release, Born on Flag Day. The writing is the kind that's worth reading and their sound is something all their own, or maybe I just can't place it yet. Either way it's good. Julie Doiron from Canada is another artist/person I like. Woke Myself Up is all kinds of brilliant and Julie herself is a true sweetheart. I do love country music though and I'm a sucker for a sad jukebox tune. Justin Earle belongs in every jukebox cause he's as country as Hank Sr. and a brilliant performer. I'm a big fan of his as well, but all these artists/front people are amazing with or without bands, which could be what draws me to them along with the good songs.
What's the most challenging part of being a young musician? Have there been moments you've thought of quitting for something less complicated?
It might be because I don't want to do anything else, but everything sounds complicated compared to making music. As difficult as it's ever been trying to finish a record , put a band together or learning guitar, these things always came easier to me than school ever did. During my last two years of high school my only goal was to graduate. College was never on the agenda, save a couple of campus walk thrus and a stint at the local Community College. There was never much of an agenda to speak of, I just liked to play shows. There's not much reason to quit unless you're quitting for something else, but maybe this is all just some weird latency period and next year I'll decide to be a veterinarian. Being a young musician should be the same as being an old one, unless you already know everything. The only challenge to being young is feeling like you have all the time in the world. It's also the best part, but sometimes it's hard to get things when the heat's not on. I also grew up in a music scene with people 6 to 8 years older than me so I've always been kind of a kid sister in Nashville. It's sweet, but I'm getting sick of all the noogies.
Do you have any musical icons? Who are they, and what do they mean to you?
Bob Dylan and Linda Ronstadt are two incredibly talented artists with vast musical knowledge and versatile tastes made apparent by the constant shift in styles throughout their careers. Linda made me want to sing all the best songs the best I could and Dylan's words split my wig-dome and make me want to wear sunglasses all the time. I've honestly learned more about music through them than any other artists. With Dylan you're starting off on folk, unwittingly learning and absorbing decades or even entire centuries of songs, then two years later you're hearing some of the greatest, most unique rock records of all time, not thinking twice about how he got to there. His records defined themselves and I feel like he didn't need to make excuses for the changes. With Linda you get to hear her voice mature from that barefoot-arizona-to-california-late-to-t
he-party hippie girl to one of the finest and most well trained voices of modern time (and hands down one of the best rock voices ever). I recently got into Amalia Rodrigues, a female Fado artist from Portugal, whose career is strikingly similar. Poets from all over would write pieces for her to sing, much like Linda becoming the song interpreter for many unknown singer songwriters in the mid-to-late '70s. The two have some unique quality in their voice that moves people in some way and the same can obviously be said for Dylan, even if it's just to hate him. I could go on, but I'll just thank them and stop there.
What are the plans for your forthcoming album?

We start tracking the first week of February. This month we're working all the songs out in rehearsals, but I'm still finishing up a few new ones. I'm recording with the band I play with live at a studio called the Beechhouse with Mark Nevers. He's worked with a lot of my favourite artists and is a Scorpio. Anyway, I think we came up with a band name, Caitlin Rose and the Singles. Obviously nothing is set in stone.

Since we're giving away Shotgun Wedding, I guess it's worth asking whether it's based on anything in particular?

Shotgun's one of the first songs I ever wrote. It's about a couple I met at Waffle House, an all night diner I used to hang at before I could go to bars. It's southern breakfast/dinner/drunk fare. An eggs-or-a-t-bone-steak kind of place that you can usually find off every interstate exit where all high schoolers smoke (or did rather), play cards and talk a lot of shit in a civilized manner. Their story didn't end well, by the way.
To download the track, visit Independent.co.uk/caughtinthenet any time from midnight